Edifice Engineering an ISO 9001:2015 Certified Company was established in November 2011 as a Partnership firms purely into contracting of Building& Concrete Demolition Jobs. It specializes in High Reach Demolition using Jaw Crushing Technology& Building Demolition. We undertake demolition contract for demolition and dismantling of buildings, plants, factories, Silos, Bridges, Pools, Dams, structural alterationsand Over-head Water Tank. etc.
Demolition Contractor

Our core activities or services involves the following
Partner

Jigar Chheda

Jigar Chheda, Partner at Edifice Engineering an ISO 9001:2015 Certified Company has established Divya Construction in 2004 as a sole Proprietor with previous experience as a Civil Contractor for green field projects. He started activities such as Drilling & epoxy Grouting for structural repairs and strengthening and then widened his horizon in core Cutting & Breaking activities. He then entered in controlled demolition market with Wall Saws, Wire Saws & Floor saws in 2007. He also ventured in Concrete Bursting, concrete Splitting and Hand Crushers.

Today with the amount of machineries he has to execute the above Jobs, he is one of the biggest diamond service contractors in Mumbai with a big list of clientele across Mumbai. He is also a core member of the Concrete Cutting Association of India.

With his immense practical knowledge on alternations of structures his acumen of understanding of tall structures before demolition can be of utmost importance in order to decide on the sequence & the right method of demolition.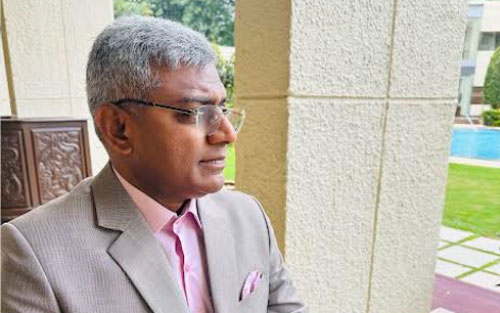 Partner

Uttkarsh Mehta

Uttkarsh Mehta, Partner in Edifice Engineering brings 11 years of relevant experience in the Demolition Industry.

His Core Expertise is to mechanise execution of Demolition Contracts. His academic qualifications of Bachelor of Engineering in Mechanical Stream supports the overall cause of mechanisation in his day to day activity. He excels in the up-keep of equipment's, increasing the productivity & Speed of execution at site and is committed to the profession.

Safety is another area which is close to his heart and has certified his company for ISO 45001 & ISO Certification of 9001: 2008

After graduation, did his post-graduation in Foreign Trade & Diploma in Marketing Management, started his career with Jobs in various industries and then plunged into business with a working Partner of complete Engineering Dismantling and Demolition jobs across India.

His key success areas are Sales & Marketing. He manages a company of 55 Employees with a turnover of about USD 7 Mio. He loves travelling, music & is a hardcore field guy with good man management skills. Combining his interest with business he travels abroad in search of good equipment's and technologies and establishes new technologies in India.

He dreamt of being an entrepreneur and today he is successful based on his core values of hard-work & Smart-work
Project Manager

Mayur Mehta

A, B-Com graduate from Mumbai University and vast experience of 15 yearsin Structural Fabrication is now steer heading the company for execution of Major Projects as Project Manager. His practical approach to a situation developed during execution of demolition contracts has helped the company to surpass many challenging situations and smooth execution. His core competency in coordinating &negotiating with on-site sub-contractors helps the company to remain on time &budgets envisaged initially at the time of finalisation. He is an asset to the organisation.

He is been with the Company for past 5 years and is now heading the execution strategy with Partner Jigar Chheda for all major projects in India.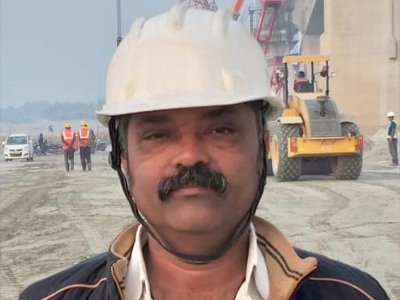 Head Plant & Machinery

Sudarshan Reddy

A diploma in Mechanical Engineering, he heads our Plant and Machinery. His main profile is to make sure all machines are running and His core domain is for periodic and preventive maintenance of our in house equipment's. He becomes a major entity in the company because of his profile as Edifice Engineering mechanises all the activities in demolition and if the machines are not in good shape, it shall impact delivery time to our clients.

He brings in a vast experience from his previous associations such as ACT, Chennai where he was Field Service Engineer for Volvo Construction Equipment's and hence his in-depth knowledge on excavators and its operations.
Head Technical

Gopal Dhande

An Engineering graduate from Electrical Stream and a vast experience in Market Service, Applications & Customer Service in various organisation is now the Technical Head for Edifice Engineering with flair in precise calculations and determining the quantity of concrete and estimation of cost and finally planning of execution on day to day basis.

His expertise in applications has immensely helped the company to arrive to right quantities of concrete to be dismantled along with preparing technical presentations to clients for complete visualisation of their project on big screens. He also lovers to prepare JSA & Risk Assessment of Jobs to be executed. He also supports the Project Manager for optimum use of Machinery and Manpower there by impacting the profitability of the company. He had joined Edifice Engineering in the year 2014 and from there on he is now a big asset for the organisation.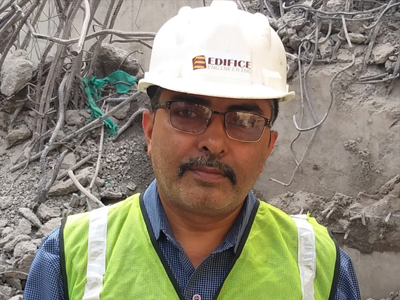 Head Operations & Maintenance

Ketan Malkan

B-Com Graduate from Mumbai University, and having past experience of trading in Automobile Spares, he has that knowledge in sourcing of parts for machineries in aftermarket which is the key to the machines working tirelessly and his knowledge on roads & transporter for transporting of our equipment's from one site to another plays another major role in our success.

He has been with the Organisation from year 2012 and managing our on site team of operators and helpers to the best possible.
Safety Manager

Mahesh Gangurde

Observe and implement the company Safety Policy. Follow rules and regulations for an effective realization of the safety and Company Objectives. Understand the objectives and targets set for the year. Observe and implement the company Safety rules and regulations. Responsible for all administration of Safety, Health and Fire Prevention program. Reports directly to the DGM / Project Director and serves in an advisory capacity. Implements established procedures, policies and work instructions to promote the safety throughout the site. To carry out site inspections of work areas, and reports any observed unsafe action or condition to the responsible engineer, supervisor, and foremen for immediate corrective actions. Discusses all hazards involved in job and its remedial measures with all concerned depts.

Guides and advises the employees for effective implementation of Occupational Health and Safety requirements. Ensures that each Supervisor conducts a weekly Toolbox meeting with all personnel in attendance, provides appropriate topics for discussions and initiates follow-up responses to safety concerns addressed during this meeting. Provides training to site personnel with regards to specific safe work practices/procedures, use and care of personnel protective appliances and handling hazardous materials. Maintain the record of all the training and attendees for audit purpose, forms attached in attachment of the manual shall be used for this.